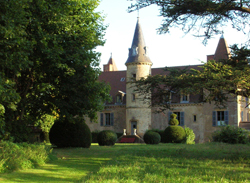 In 1886, a local historian described the château de Vaulx in the following words:
Well-proportioned, elegant in its simplicity, located in the most beautiful position on hilltop, its main facade faces south. From this vantage point, we enjoy a pleasant vista across a vast stretch of the region : Saint-Julien de Civry, Dyo, Saint Germain, Amanzé and beyond, as far as you can see, the blue mountains, including the old Dun. a panorama as vast as diversified.
Today, luckily enough, the scenery is still the same. The house has grown with two wings on the east and west sides by Léon Geoffray  at the end of the 19th century.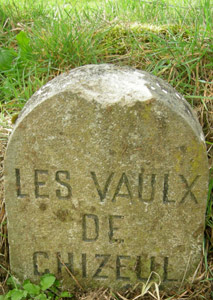 The castle of Vaulx de Chizeul lies between the Charolais and the Brionnais. This castle was built in the 14th century and was the house of a very famous French family, the de Choiseul, until 1435. The name "de Chizeul" is a distortion of the family name.

Since 1471, the landlords of Vaux were the Damas family, a well known Burgundy family, one of whose branches was called Damas de Vaux. The castle, fortress, hamlets and lands stayed in the Damas family until 1793, for more than three centuries.
The castle had a dominant position in the region. It size was huge (91 meters by 29 meters) and included a square dungeon, the lord residence, a storehouse and a jail.

The castle was damaged during the wars of religion in the 16th century and in 1793, when it was sold as a national property because the family emigrated during the French revolution. The only remains are a ruin which was probably the prison.

200 metres from the old castle of Vaulx de Chizeul stands the current château de Vaulx. It used to be the house of the main officers and administrators of the estate. The role of the administrators was very important as the Damas family did not live full time in Vaulx, being either in Paris or in Dyo castle, another land they owned in the region.


Part of the existing Vaulx castle dates back to the 16th century, as indicated by stones dated 1563 on the façade, The castle has been modified and expanded until the beginning of the 20th century. In the 19th century, the castle was the property of the Geoffray family, and in particular Léon Geoffray (1852-1927) who was French Ambassador in Spain and one of the key contributors to the reconciliation of United Kingdom and France before World War I.