"There are more things growing in the garden than the gardener sows."
Garden floor of the dependence, adjacent to the main house.
An apartment of 110 m2 with a private courtyard of 50 m2.
Views of the château courtyard, the Brionnais valley, the private courtyard and the flower garden.
For 2 to 5 persons.
From 29,- € per person per night.
Garden floor
The private courtyard : with table, chairs and flower garden view.
The living room : large room with sofa, table, TV. Access to bedrooms and kitchen.
The kitchen : usual equipment.
The Gardener's room : large bed for two people, flower garden view, access to the bathroom.
The bathroom : with sink, shower and toilet (2 access steps). Brionnais valley view.
The Elf room : 3 single beds, access and view on the courtyard of the château.
Price

 

For 5 pers.

For 2 pers.

For 2 à 5 pers.
(except kitchen)

 
 

2 rooms

1 room

2 rooms

Whole week

From Saturday till Saturday noon

1.215,- €

940,- €

 

Week-end

From Friday till Sunday noon

570,- €

435,- €

 

Mid week 

From Sunday noon to Friday noon

720,- €

645,- €

 

 
 
 
 

180,- €/night
+25,- €/bed
Cleaning, linen, water, electricity, internet and access to the pool included.
Supplement if applicable : heating (10,-€ per person and per nuit) and eventually refurbishment.
Local taxe : +2% of the stay.
Schematic plan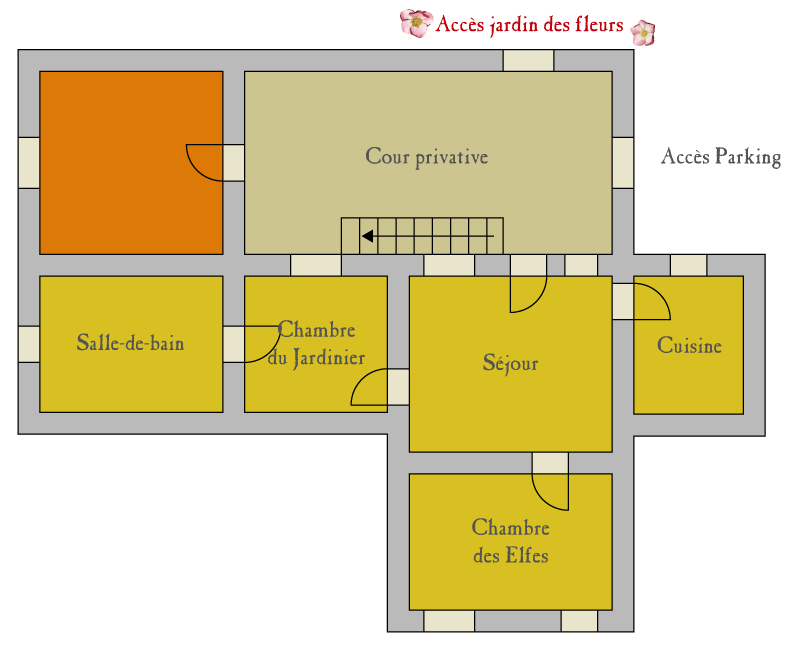 Booking terms and conditions for the gîte du Jardinier
When booking, please provide :
your credit card number, expiration date and the last three digits on the back of the card,
a phone number and / or email address so that we can reach you before your stay,
estimated time of arrival at Vaulx.
The weekly rentals are generally from Saturday afternoon (4pm) to Saturday morning (10am). The weekend arrival is, in general, on Friday evening and departure on Sunday afternoon.
Deposit
At the booking we take a 35% deposit of the total rental price. In case of disability of the card, the reservation will be canceled and we will contact you.
Cancellation
In case of cancellation in according to the standards, we keep the deposit. If canceled in the week before the start of your stay, we will ask you for the payment of all or part of the balance of the lease.
If your stay is shortened, the full amount of the rent remains acquired.
Please check if you have insurance in case of cancellation that allows repayment of the lease. Otherwise, it is recommended to subscribe one.
Stay
On arrival, we will make together an inventory. The balance of the rent will be paid at that time, including participation in the heating of the house, if necessary.
At the end of your stay, we will make together an inventory. Any damage that would be found you will be charged. Please check if get a so-called "resort" insurance. Otherwise, it is strongly recommended to subscribe one.